I think that feeling of being thrown into the deep end and doing something you never thought you would accomplish is really powerful.

Reshma Saujani
In Brief: 💳 🛠 🌯
StartupHotel wanted to solve an important pain point for entrepreneurs: having to pay high costs to have a point of sale for their products. I helped design, fabricate, and program a low-fidelity prototype of a wooden vending machine that would provide a low-cost, highly adaptable space for entrepreneurs to get their products out there. This was developed using an iterative process that involved key stakeholders such as shop owners that would be hosting these hotels, users that would be buying from these hotels, and entrepreneurs that would be selling stuff out of the hotels.
The Problem
Entrepreneurs, especially those in the food industry, face numerous issues when it comes to getting their product out there. There are high barriers to entry when trying to get your items in stores. That's why Ryan Merlini was compelled to found StartupHotel (now known as Lokavore) as a way to help entrepreneurs get their products in front of their users.
The Process
Ryan asked me to help develop a vending machine that could replace the MVP that he had currently in locations around my university. These were stacked plastic boxes that were based on a foundation of trust that required people to transfer money to an account and then take an item, with no validation of whether or not the amount was correct or if it had been done. By analyzing Ryan's current product, and by understanding what he wanted to achieve in this next iteration, I was able to come up with a set of features:
It had to:
protect items from theft
accept payments from credit cards
be easy to swap out different 'tenants'
be scalable
easy to fabricate and distribute
I looked to existing companies like IKEA that made easy to assemble furniture, as these vending machines would have to be accessible for ambassadors to deploy. It was because of this that I was inspired to make a flat-pack, friction fit design that wouldn't require any tools that you wouldn't have lying around at home. Because these were able to be laser cut, it would be possible to send someone the file to fabricate their own hotel in another part of the world.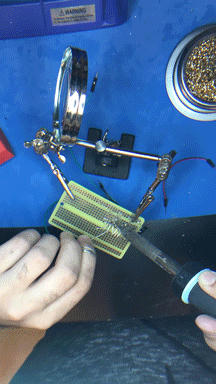 The locks were controlled by a Raspberry Pi 3 and involved a lot of soldering and testing: the locks would unlock only when a payment for a particular product had be processed and accepted, thus protecting the items from theft a little bit better than V1. In its current form, this wasn't very scalable, but it would be possible to create a custom board to replace all the soldering I that would have to be done.
I didn't have a lot of experience with developing on payment platforms and there was a lot of compliance involved, which is why Ryan and I decided to use Square and their API to handle payments and to control the locks on the system. It let us integrate with the Raspberry Pi 3 and have a working MVP that we could deploy and have our users actually interact with and test.
The Final Product
Overall, I'm really proud with the way the project turned out because I learned so much about electronics and APIs, got to be creative with the way I approached different problems, and really got to interact with the end user and build based on their feedback. It was a really good way to practice the design thinking process and get my hands dirty. There are a lot of way that I can improve this design, so hopefully we can look forward to a V3 in the future!